So what does this mean?
Our member and longstanding supporter of all things innovation, Microsoft, has announced that they will be sunsetting our free tool, The 3MF Service. The 3MF Service helps users by automatically preparing their 3D files for 3D printing; users have to upload 3D files, select a tool, then download a ready-to-print 3MF file. It's easy to use, and while we'll be sad to see it go, we're happy to report and share other tools that work similarly and convert your files to 3MF quickly and efficiently!
3D Builder 
Product:
3D Builder
Maker:
Microsoft
Cost:
Free
About 3D Builder
The 3D Builder app has modeling and editing tools and the ability to print to a Windows-compatible printer driver-equipped 3D printer. The app can be used as a reference and a test tool for 3D editing and for validating the 3MF files you create. You can download many kinds of 3D files, including 3MF, STL, OBJ, PLY, and VRML file types, and it can save models in 3MF, PLY, and STL file types.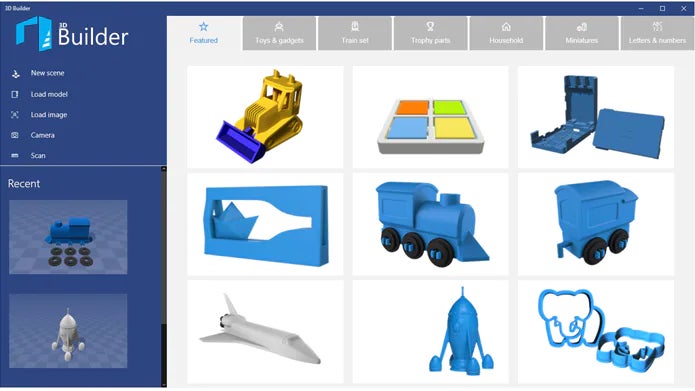 Source: Microsoft.com
CAD Exchanger Rhinoceros Plugin 
Product:
CAD Exchanger Rhinoceros Plugin
Maker:
CAD Exchanger
Cost
: Free 2 week trial | Perpetual license – $750 (one-time fee)
About CAD Exchanger Rhinoceros Plugin
CAD Exchanger collaborated with the Rhino development team to create a plug-in that allows for the direct import of 30+ (see the complete list of formats available here) CAD formats into Rhino.
Its scope includes, but is not limited to, several neutral (JT, Collada, IFC), kernel (ACIS, Parasolid), and native (Siemens NX, CATIA, SOLIDWORKS) formats not supported by the package itself. Access the complete list of supported formats and their versions here: https://cadexchanger.com/formats/.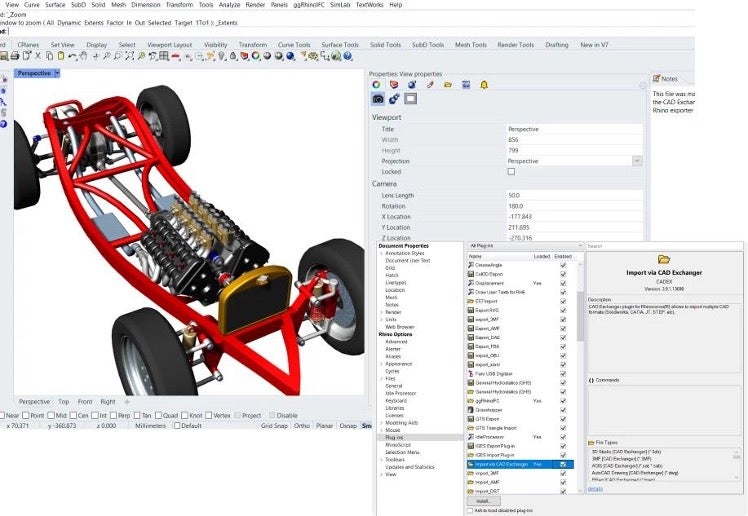 Source: cadexchanger.com
Autodesk
Product:
Fusion 360
Maker:
Autodesk Inc.
Cost:
Free for non-commercial use
About Fusion 360:
Fusion 360 is a cloud-based CAD/CAM/CAE tool for collaborative product development. Fusion 360 combines fast and easy organic modeling with precise solid modeling to help you create manufacturable designs.
The Mesh tab contains mesh modeling tools within the Design workspace in Fusion 360 and supports parametric and direct modeling modes. Fusion 360 users can utilize the Mesh commands to insert, repair, and modify mesh bodies to prepare them for manufacturing. They can also export the repaired mesh bodies as a 3MF file.
The following video guides through the mesh repair workflow: https://help.autodesk.com/view/fusion360/ENU/courses/AP-MESH-REPAIR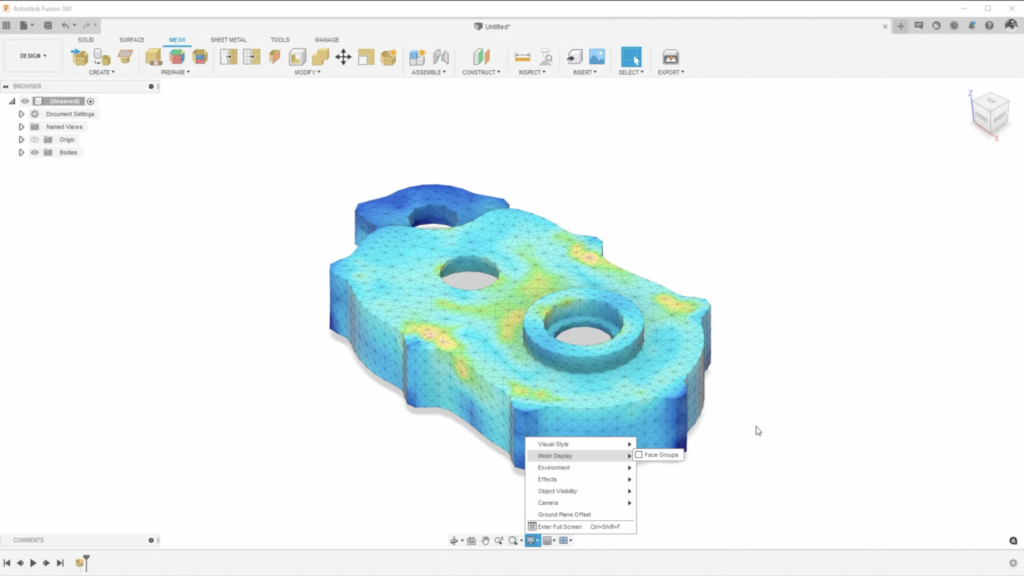 Source: Autodesk
Spin 3D File Converter Software
Product:
3D File Converter Software
Maker:
NCH
Cost:
Free for non-commercial use
About Spin 3D File Converter Software
Spin 3D is a user-friendly and efficient 3D model converter that can convert between STL, 3DS, 3DP, 3MF, OBJ, and PLY mesh file formats. You can convert any 3D model or 3D design you create with any program to the format you want. Spin 3D also features multi-threaded batch processing making it easy to convert one file or many.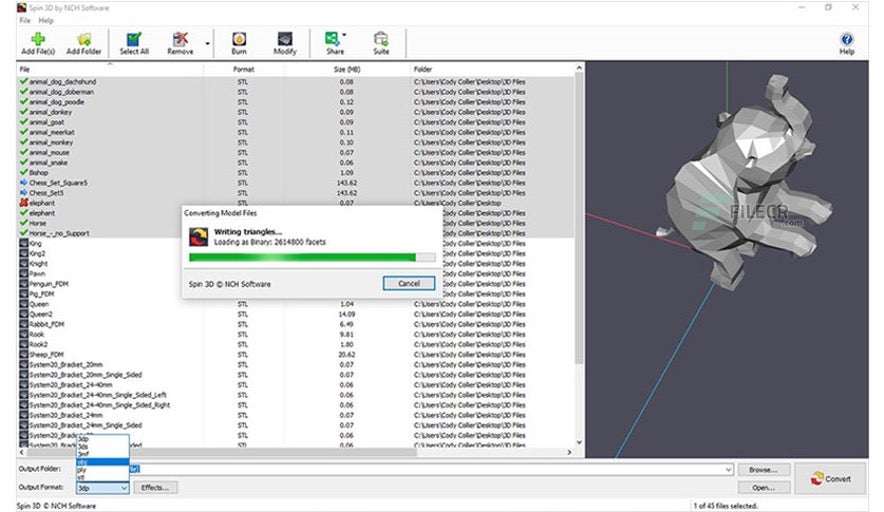 Source: filecr.com
Autoconverter
Product:
Autoconverter
Maker:
Automapki
Cost:
$75 for a yearly subscription
About Autoconverter
Autoconverter gives you the power to import, export, and convert between the most common 3D mesh and solid file formats as a native Windows executable. Autoconverter includes tons of 3D file extensions, including 3MF, STL, OFF, OBJ, 3DS, IV, SAT, PLY, VRML, 3DM, SKP, DAE, STEP, IGES, COB, XYZ, IFC, FBX, X3D, U3D, DXF, X, GLTF, BLEND, LWO, AMF, TER, ASE, and RAW.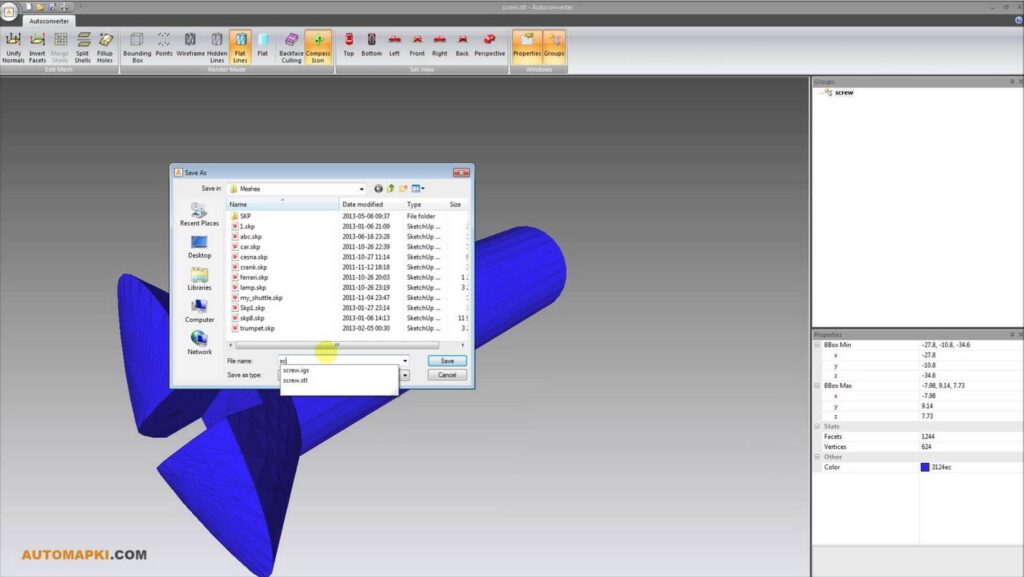 Source: autoconverter.software.informer.com
3D-Convert.com
Product:
3D-Convert.com
Maker:
3D-Convert.com
Cost:
Free
About 3D-Convert.com
3D-Convert.com is a free website that allows you to quickly and easily convert files. 3D-Convert.com offers 627 different file conversion options, including 3MF. You can upload your file from the site, and within seconds you'll get your converted file. One thing to note about this site (and other free converter sites) is that many advertisements will be displayed since the website's operation consumes money, which is how the producers ensure it remains free for you.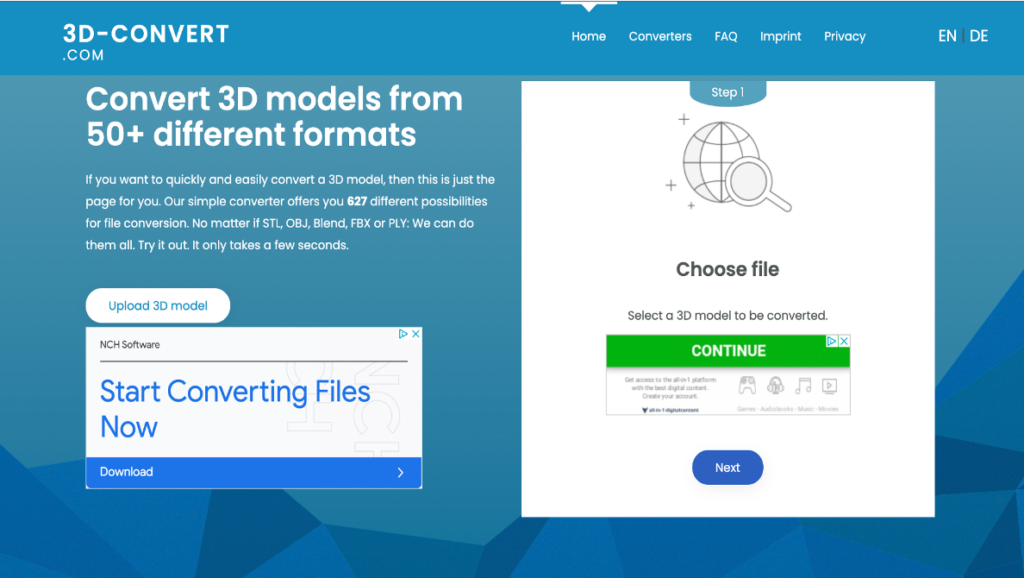 Source: 3D-Convert.com
AnyConv
Product:
AnyConv
Maker:
AnyConv
Cost:
Free
About AnyConv
AnyConv is another free website that's easy to use and convert your files online. The great thing about websites is that there is no need to download and install anything on your computer, as the conversion process is online. In addition to converting 3D files, their web service can also convert documents, images, audio, video, ebooks, and archives.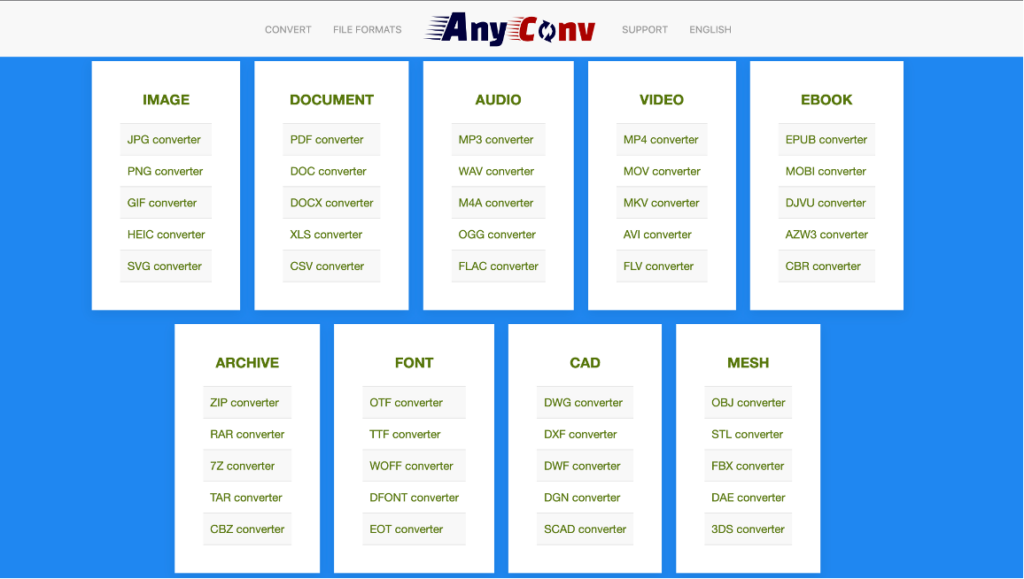 Source: anyconv.com
SwiftConverter
Product:
SwiftConverter
Maker:
SwiftConverter
Cost:
Free
About SwiftConverter
SwiftConverter is another free website that allows you to convert your files online. You can use the 3D file converter on the SwiftConverter platform to convert between STL, 3DS, 3DP, 3MF, OBJ, and PLY 3D files. The program's interface and functionality are straightforward, allowing you to drag and drop a 3D file up to 100 MB in size.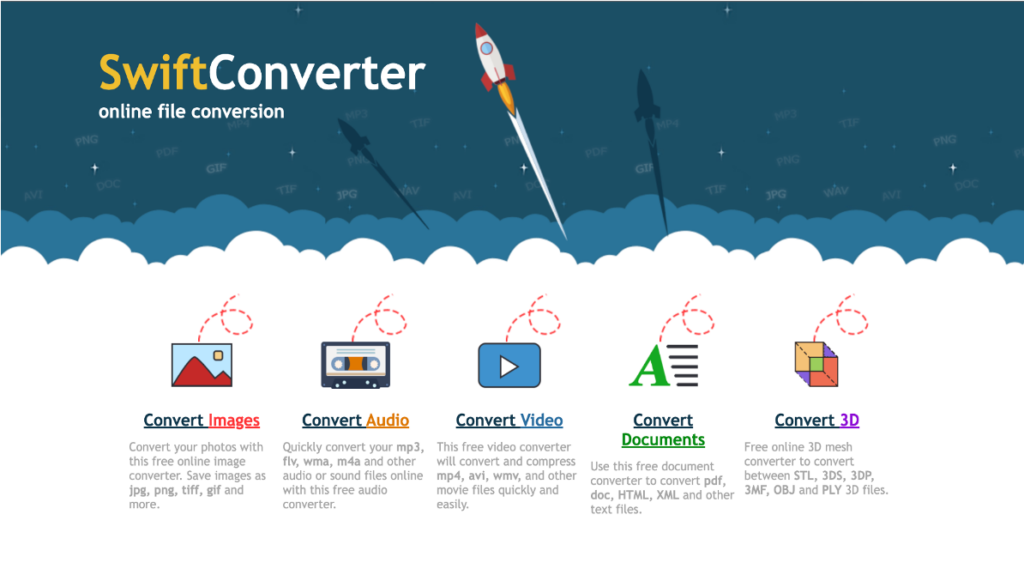 Source: swiftconverter.com
3D Printing SDK
Product:
3D
Printing
SDK 
Maker:
Microsoft
Cost:
Free
About 3D Printing SDK
Microsoft's 3D Printing SDK offers a collection of tools for Windows to facilitate the development of 3D printers and apps. This collection includes:
The 3D Manufacturing File format (3MF) specification and sample 3MF files

The full source code shows 3D printing from the Microsoft Store and a desktop application.

Sample 3D printer drivers.
Most notable — and first on the bullet list above — to the 3MF Consortium are the developer docs available to generate a 3MF package. You can learn more here: Generate a 3MF Package.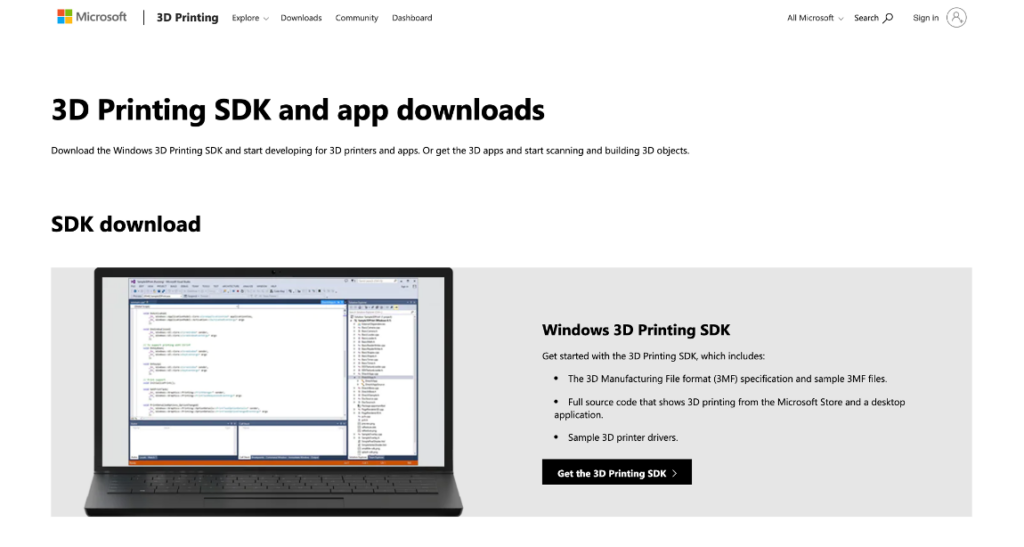 Source: microsoft.com/en-us/3d-print/sdk-app-downloads
We hope you find these resources helpful in converting your 3D files into ready-to-print 3MF files. As part of our commitment to enabling the full power of 3D printing, we will continue to update this article with more tools as they become available to the public.