3MF in the Wild – Meet Authentise!
The 3MF in the Wild blog series highlights creative applications of the 3D Printing and Additive Manufacturing 3MF standard. In this article, we want to introduce you to data-driven workflow management, Authentise.

Authentise is on a mission to revolutionize the additive manufacturing process from design to part to increase efficiency and repeatability, ultimately helping businesses scale their additive manufacturing operations with its Authentise aMES. By helping digitize operations, they also help businesses unlock the digital thread to deliver a full set of contextual data that represents a platform for future (machine-assisted) learning and insight. They offer best-in-class tools with partner integrations that include over 700 APIs and codeless connectors to integrate workflow into Corporate IT & more.
We recently had the opportunity to catch up with Authentise to discuss how the 3MF specification plays a part in their overall mission to improve end-to-end workflow in the additive manufacturing industry.
Q&A
What products or services does Authentise provide the additive manufacturing industry?
Authentise delivers end-to-end connected workflow software to additive industry users, including Boeing, Beehive3D, Ricoh, Danfoss, and others. 

Our users benefit from our software for two primary reasons:
Make the process more efficient and reliable: We accomplish that by automating actions such as quoting and scheduling updates with machine data. We also make user-friendly services, such as mobile apps with QR/RFID travelers for shopfloor operators, that help shorten time to update, ensure quality, and more. Boeing for instance was able to reduce time to generate a build by 41 hours and got a 3X ROI within just 8 months.
Capture contextual data for learning: Data is critical building knowledge required to make additive manufacturing faster, more reliable, and cost-effective — but not every piece of data. By managing the process from pre-production steps to final shipment, Authentise captures all data such as machine data, parameters, design and build files and operator data that is generated in this process. This can then be manually evaluated or used by one of the partner artificial intelligence algorithms to optimize the process. It's also easily integrated with other tools through API or through our integration with no-code platforms such as Microsoft Power Automate.
We've been working in this field for 10 years. We started off by focusing on securing Intellectual Property in additive manufacturing but realized that today's problems lay mainly in making the process more cost-effective and reliable. The solutions we offer now benefit from this experience in 2 ways:
Modular System
Data Focus
What are the biggest challenges in the 3D Printing/AM industry?
The industry still has a lot of growing up to do — it's tiny, compared to manufacturing as a whole. And despite a proliferation of standards, there are still fewer than in traditional glassblowing, although the industry is handling thousands of different materials.
To change this, we need to radically accelerate our learning. And that means managing data. That is why underpinning any significant additive journey with an intentional data infrastructure is important. That includes understanding what data is generated and captured, where it is needed, how to capture it and integrate it, what areas are most prone to failure, where the most time is spent, and so forth.
We've seen a slew of formal requests for proposals doing exactly that recently, which is encouraging, but much more needs to be done.
How does your product take advantage of 3MF?
We've embraced 3MF as an intermediary filetype in any area where more data than a simple STL is required.
We started with Build Files. Build files can incorporate hundreds of separate geometries, each of which has to be saved in a specific orientation and position. Those need to be individually addressable in case the operator wants to change the layout of his build in another system such as Netfabb.
We're doing the same on order intake. Recently we moved beyond being able to order individual geometries/parts into handling assemblies and full products. Each of those has individual parts in them, so the upload through 3MF makes sense to communicate both the full assembly as well as constituent parts and related properties (material, orientation, etc)
Finally, we're also using 3MF in some of our optional modules, such as Watermarking. This allows users to identify the area in which we're allowed to apply a serial number, for example as distinct from the underlying geometry.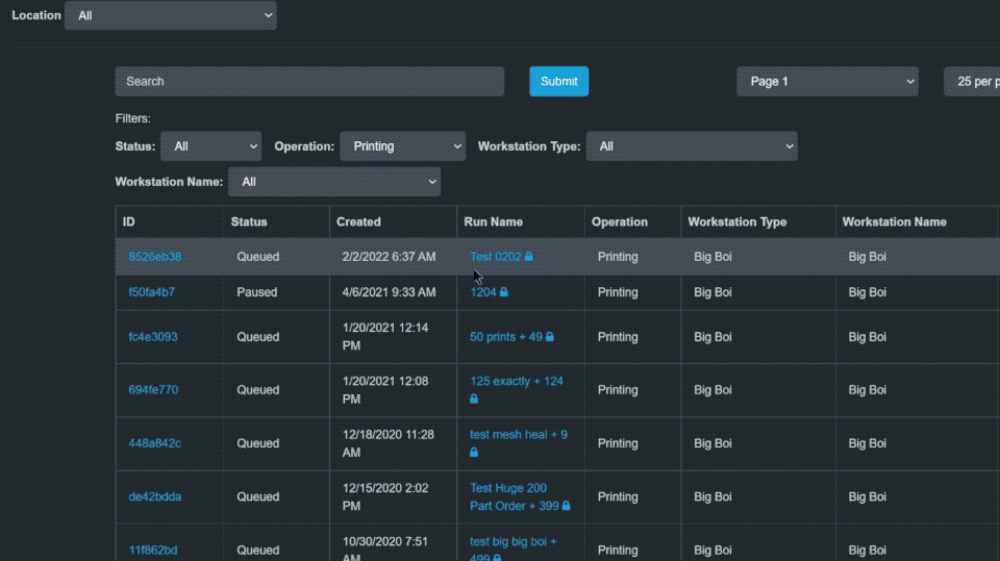 Why do you feel 3MF is important to the 3D Printing/AM ecosystem?
The importance of 3MF is going to grow. An underlying need of the industry is to effectively orchestrate the dozens of tools that are needed to turn an idea into a 3D-printed product. At the moment there's too much time and error potential in uploading and downloading designs into design tools, simulators, AM setup tools, monitoring tools, and more. We've already integrated more than a dozen third-party algorithms and would like to integrate more. What's stopping us is that each one of those integrations is a customized slog. We would love it if 3MF could go beyond the ways it's currently helping us and help standardize the way these software tools interact in the future.
What exciting developments do you expect to see in 3D Printing/AM over the coming months or years?
Ultimately, the most exciting opportunity is for 3MF not only to define geometry but help communicate the intent of the project. When I think of 3D printing, I think about all the tools and materials not yet developed. That means each of the designs we're currently optimizing for additive production is going to have to be redesigned many times as those innovations become reality. Redesigning based on geometry is hard and ineffective because it hides the raw intent of the design. Instead, we should be looking at ways to capture the raw intent for tools like the generative design to be able to utilize. The additive industry, and 3MF, have their work cut out for themselves.