Meet 3MF Member, Vistory!
Welcome to the first in our series of posts highlighting our members from across the 3D Printing industry.  Our members are the titans of 3D Printing and Additive Manufacturing (AM).  In each post, we will interview a new member company and publish their perspective on the AM ecosystem and their take on how 3MF drives innovation and value.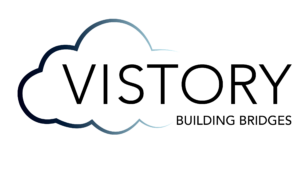 Vistory is a French software editor specialized in cybersecurity and digital trust which develops solutions based on Blockchain and Cloud technologies. Today Vistory enables distrusted additive manufacturing to scale up with trust.
Q&A
What are the biggest challenges facing the 3D Printing/AM ecosystem?
The 3D printing industry – also known as additive manufacturing – is booming because it has huge benefits. The ability to print a part onsite or closer to operations—as opposed to that part coming via long, complex supply chains saves time and money, reduces transportation costs, lowers carbon footprints, reduces labor costs, and injects agility into the supply chain.
However, the digital nature of the additive manufacturing process triggers significant industrial property protection concerns. If a spare part is now created via software, across a new and expanding ecosystem, how can we know that part was completed to specification and verified? How do we ensure that the Industrial Property is protected?
What products and services do you provide in the 3D Printing/AM ecosystem?

We bring security to digital supply chains in the additive manufacturing ecosystem.
Based on private blockchain, MainChain, our seamless trusted third-party platform for distributed additive manufacturing, we provide to our industrial customers risk control and trust across the entire digital supply chain by:
Preserving industrial property, confidentiality, and trade secrets
Certifying industrial property integrity
Enabling end-to-end traceability throughout digital supply chain, from design to part manufacturing
Automating workflows
Creating new business models (monetize industrial property and manufacturing spare parts on-site and on-demand)
Like a Spotify for industrial with digital rights management (DRM), we scale up distributed additive manufacturing with trust, make supply chain more resilient and catalyze industry carbon footprint reduction.
We started from a use case in the French Army. Their 3D printing experimentation presented a trust problem between them and their industrial suppliers, especially in overseas operations. We started with Land forces, then scaled up with the Navy on Charles de Gaulle, the French aircraft carrier. Discover the Land Forces use case of the first blockchain operated in overseas operations.
Why did you decide to join 3MF?
The 3MF Consortium is working to define a universal specification for 3D printing in order to eliminate the issues with currently available file formats.
At Vistory we are working on an R&D project to develop our MainChain product. This project consists of affixing an unforgeable digital identifier (watermark) to a part produced by additive manufacturing. This will solve the problems linked to counterfeiting in the context of distributed manufacturing.
As part of this, we want to contribute to the definition of this universal specification to make our R&D project compatible but also to support the industrialization of distributed additive manufacturing.
Why do you feel 3MF is important to the 3D Printing/AM ecosystem?
STL files are basic with very limited information. It is unstructured, triangulated surfaces that do not contain color or material information. STL files only describe the surface geometry of a three-dimensional object. As a universal format, 3MF would allow the creation of an enriched file that could integrate an identifier and a set of information that is important for traceability. In comparison to 3MF files, which can package all the data you need to 3D print a model, STL files require significantly more work.
What exciting developments do you expect to see in 3D Printing/AM over the coming months or years?
More affordably priced materials scale-up additive manufacturing in production
Faster 3D machines = a better ROI => higher volumes
New innovative materials for new business opportunities
Hybrid 3D machines combine the best of both worlds
Normalization of the Digital Warehouse concept