3MF in the Wild – Meet Additive Flow!
The 3D Printing and Additive Manufacturing 3MF standard is used in various creative ways, and in our 3MF in the Wild blog series, we share stories of companies maximizing its use. In this post, we'd like to introduce Additive Flow!

Additive Flow was founded in 2017 as a venture to create and deliver cutting-edge digital solutions for the additive manufacturing (AM) process. Its multi-functional software is unmatched and currently unlocks the multi-material, multi-parameter process capabilities of AM. The technologies in Additive Flow empower users to take additive manufacturing further than it has ever gone before for applications across many industrial sectors, including optics, healthcare, manufacturing, and more.
The company was co-founded by Alexander Pluke (CEO) and Charles Fried (CTO). They are leading an exceptional and growing team that works at the intersection of architectural computation, Artificial Intelligence (AI), and material science.
We recently spoke to Alexander Pluke and got into how the 3MF specification is implemented in their solutions.
Q&A
What products or services does Additive Flow provide the additive manufacturing industry?
Additive Flow was founded so engineers can harness the benefits of advanced manufacturing with our complexity-busting software, which distills exponential data and breaks down silos – delivering highly optimised decisions that maximise productivity, sustainability, and business value. Our software is unique in simultaneously addressing data and decisions across the different stages and scales of the product workflow – from development to manufacturing, QA, and right into operational life. 
Having worked with multi-national leaders, including Saint-Gobain, Royal Haskoning, Tata Steel, and Zeiss, Additive Flow's technology has enabled groundbreaking results that include:
15x improved sustainability to doubling manufacturing productivity and cutting costs by half.
And significant improvements in engineering performance and quality metrics, with AI, were demonstrated to be 2000x more efficient.
Consolidating key features of multi-objective optimisation that volumetrically assigns local properties just where they are needed with repeatable workflows that scale and retain process know-how. We also deliver projects that effectively apply our optimisation to help customers and partners improve sustainability, engineering, and business value simultaneously across the additive workflow.

What are the biggest challenges in the 3D Printing/AM industry?
The breadth of opportunities that exist across AM is a double-edged sword that also generates complexity – both in 1. certification and qualification at the inception of engineering and business case building, that also 2. tracks into ('mass') production and industrialisation. 
The freedom of material properties and internal/ external structural possibilities offer extreme engineering benefits but can come with an unmanageable overhead to deploy. This qualification step is generally too expensive and it takes too long to gain regulatory and industrial acceptance (no one wants their products falling from the sky, or bouncing from the freeway) – accelerating this essential assurance step is a key application of our technology. 
While the variability of production inputs from material heterogeneity to process control inconsistencies can ruin otherwise promising production programmes – any small change will disrupt the principle of certification: that everything churned out the end of a line is the same (or near enough). 
Keeping everything as fixed as possible on the input, on the control, on the post process is an obsession that can work – but keeps opex higher than it otherwise could be, and also hinders innovation. As new machines, materials, and applications bubble up for recognition – they face an uphill battle that demands strong stomachs from all involved, and determination to progress with no certain outcome to reach the promised land over the horizon. 
This is why addressing as much of the choice complexity as we can upfront is so key (minimising things cropping up later to derail your plans)- and why Additive Flow's Technology is gaining such traction in the market – it can sample across the opportunity space and determine how to handle the different influences that emerge with our repeatable optimisation workflows – that select a series of consolidated choices to empower engineering and business leaders to control the critical outcomes which affect top-line ROI (plus meeting engineering and sustainability goals). 
How does your product take advantage of 3MF?
When we consider a technology stack like ours which outputs solutions that embody many layers of varied volumetric data, from laser power, speed, vector direction, hatch patterns to multi-scale lattice properties and even multi-material allocations (in graded and discrete depending on the technology) – we need an efficient standard to communicate across the toolset our customers use.
This especially applies to interfacing with build prep and toolpaths generation. Traditional toolpaths and parameter selection involved using only one or two parameters eg. For a contour vs. Main body vs. A support structure, we are now allocating graded parameters within individual toolpaths to optimize production speed while maintaining appropriate conductivity or mechanical behaviour (the kind of methodology that's unlocked 1.5 to 2x improvements in productivity for our clients). This example contains different activity, and can't be easily accomplished with manual mesh selection and click-through menus.
I remember one early case we were working on at the start of our journey, and as a proof of concept had allocated fast and slow parameters to improve speed while maintaining physics performance where our solvers had taken minutes to deliver a solution. However, the team then had to spend 5 days (and nights) manually dealing with multiple STL meshes and assigning the proper parameters – having to manually overcome overlapping triangles, the horrors of successive Boolean operations that left gaping holes that needed to be filled by hand, one by one. To support the team, I drove through at least 4 out of the 5 nights. Miraculously it worked, and we proved the point in production, but it was a lesson that there needed to be another way.
The new breed of toolpath initiators entering the fray, which accept 3MF to varying extents, are a sunbeam of hope in the darkness of those invested nights. They allow direct export in a graded manner of the full host of optimised parameters we deliver in the single click of a file I/O.
Additionally, the 3MF Consortium is an excellent example of an industry body with the foresight to develop ahead of the market. In particular, we believe that the volumetric extension will drive the next generation of capabilities that technologies like ours can rely on.
We have implemented full volumetric export of each current scale we optimise and allocate for – and will continue to do so – this is the only way our industry can mature and realise the cost and workflow efficiencies that end users are calling for.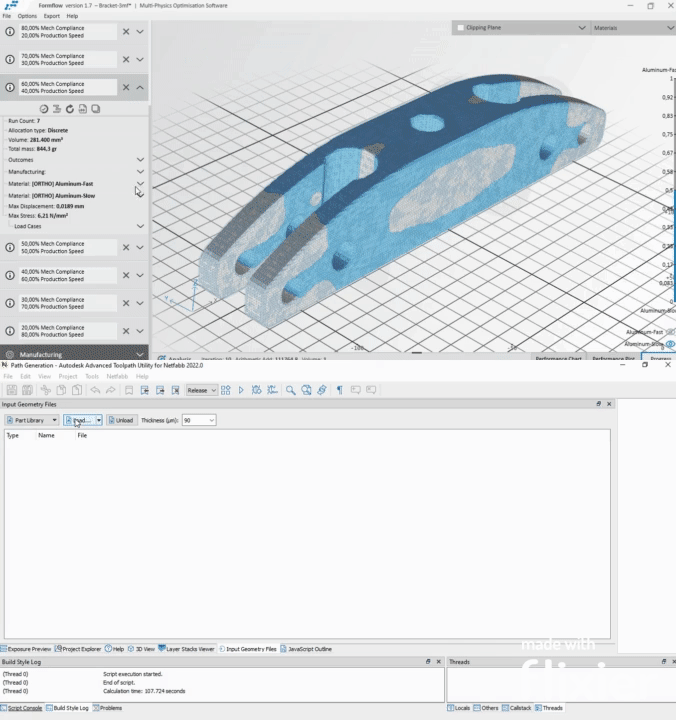 What exciting developments do you expect to see in 3D Printing/AM over the coming months or years?
Our industry is maturing, yet we still come up against legacy mindsets that don't necessarily represent where know-how and state of the art is. There is generally a lag between development and adoption. One of our goals at Additive Flow is to accelerate time to value of emergent technology – enabling comparisons that balance capex opex and returns (including supply chain resilience and the others). More specifically, we're excited for new developments in multi-material and single material multi-property, production efficiency with the maturation of upcoming technologies that have been on the cusp. These developments will tailor to specific use cases (from cold spray to DED and new wave LPBF), and the fruits of research into the effects and behaviour of control parameters and material properties (which allows our technology to model and then optimise).
What advanced 3MF capabilities do you want to support in the future (color, lattice, volumetric?)
Members of the tech team and I feel that it would be interesting to consider how there could be a structural framework to identify or hierarchically organise volumetric data. Ideally, a framework concerning the stages of the digital thread – addressing some of the interface work to help avoid classification / human errors on the interface and provide guidance.