Meet 3MF Member, Hexagon!
In this post we are highlighting 3MF Consortium member, Hexagon, and their contributions to the additive manufacturing space.

Hexagon is a global leader in digital reality solutions, combining sensor, software and autonomous technologies. Their solutions are putting data to work to boost efficiency, productivity, quality and safety across industrial, manufacturing, infrastructure, public sector, and mobility applications. Their technologies are shaping production and people-related ecosystems to become increasingly connected and autonomous – ensuring a scalable, sustainable future. Hexagon's Manufacturing Intelligence division provides solutions that use data from design and engineering, production and metrology to make manufacturing smarter. For more information, visit hexagonmi.com.
Q&A
What are the biggest challenges facing the 3D Printing/AM ecosystem?
Seamless data connection between the various stages of the manufacturing process, from design through to production and part usage continues to be challenging for those in industrial AM. As much as many of us in the software space would love for our customers to use a single software ecosystem, the reality today is those in additive manufacturing are using a build prep tool from Company A, process simulation tool from Company B, an MES tool from Company C, and then CT-analysis software from Company D. Of course, there is still a need for all these solutions to communicated with one another simply to achieve the workflow customers are performing. We are also seeing customers increasingly interested in applying AI/ML methodologies on the data captured during their entire design and manufacturing workflow, which given the traditional dominance of disparate data formats has been difficult. This is where we see through a combination of open platforms and open formats like 3MF, the possibility for those of us offering hardware and software solutions to enable our customers to realize the full potential of additive manufacturing more easily and seamlessly.
What products and services do you provide in the 3D Printing/AM ecosystem?
Hexagon's Additive Manufacturing end-to-end solution portfolio helps manufacturers and service bureaus design, optimize, validate, and replicate high quality additively manufactured metal or plastic parts robustly, accurately, and fast. Hexagon´s SFx platform for smart manufacturing equips factories to be smarter, more flexible, and more productive by moving captured data from where it is created to where it adds value. SFx is at the heart of manufacturing and serves as a connectivity platform linking virtual and real data and enabling digital continuity from product design to part production and quality inspection, providing required digital twin along the way: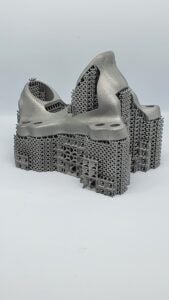 Digital materials models to be used at every stage of the workflow and for all forthcoming simulations
Product Design based on latest DfAM and generative design technologies
Part performance analysis at every stage of the workflow (as-designed, as-virtually printed, as-manufactured)
Reverse engineering capabilities that allow the creation of digital twins from physical product scanning
Production risk mitigation and print optimization through best-in-class build process simulation allowing for Right-First-Time printing & post processing steps
Build and job preparation tools (e.g., support structures, slicing, hatching, toolpath generation)
Machining planning and programming, and toolpath validation; CAM capabilities for additive and subtractive processes
Inspection hardware & software for inline or final part inspection, allowing for various scanning and sensing methods adapted to AM needs; includes the world´s leading CT software from Volume Graphics.

Why did you decide to join 3MF?
The 3MF Consortium's goal of modernizing and standardizing the data formats used within additive manufacturing aligns with Hexagon's goal of enabling customers to industrialize AM. We are already using 3MF in several solutions such as Simufact Additive and Esprit Additive, with plans to add it to more tools across our portfolio like Digimat-AM to enable enhanced connectivity to 3rd party solutions and machines. With the breadth of the Hexagon Manufacturing Intelligence portfolio, not only on the design and engineering side that many folks know us for, but also with sensors and precision measurement devices we felt an opportunity to contribute the perspective from our diverse customer base to help evolve 3MF to address even more areas of the additive manufacturing workflow.

Why do you feel 3MF is important to the 3D Printing/AM ecosystem?
The AM ecosystem traditionally had closed and/or outdated formats (like STL) that limited innovation to a degree; today with many industry players rallying around 3MF, we see the format to lift the entire industry up and drive innovation. 3MF is continuing to evolve with various extensions that help address industrial problems in AM, for example the lattice extension for more easily transferring what were traditional quite heavy amounts of data. Or the new volumetric extension, which will help address needs not only on the design side, but also on the quality assurance side where it could be used for communicating data from CT analysis of part to understand the impact of toolpathing on manufacturing defects or analyze the performance of parts as manufactured. And with a shared open format for the entire industry, collaboration between software providers and hardware providers will become easier and more straightforward.
What exciting developments do you expect to see in 3D Printing/AM over the coming months or years?
In recent years we have been seeing the evolution of AM into an ecosystem of open platforms both from hardware and software providers, that we believe will enable greater innovation than the previous closed eco-systems. It has been exciting as these platforms start to take off and begin to communicate with one another, and as we do so, certainly we are seeing a maturation of the industry that will improve the situation for software providers, hardware providers, and end users.
On the hardware front, there are quite a few companies getting into multi-material printing like Aerosint, DM3D, Meltio and InkBit, that will open whole new possibilities for design that is not possible today. This will present new challenges in design and analysis as you can move from designing parts with a single material, to the ability to mix multiple materials to target performances for selectively. Of course, after design and pre-production analysis, this will also require new workflows and methodologies for post-manufacturing quality assurance.
On the metal side, we are excited to see alternative technologies to L-PBF such as DED and MBJ developing and coming to maturity. In particular, if MBJ delivers its promises in terms of quality and productivity, we believe this could become a game changer for the adoption of metal AM in the automotive industry at an industrial scale.